Plymouth yacht fall leaves sailor homeless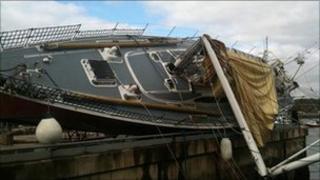 The owner of an ocean-going yacht has said he is homeless after his craft toppled over in a Plymouth boat yard.
Kurt Lillywhite's 45-tonne yacht, Big Spirit, had been lifted out of the water for three days of maintenance at Plymouth Yacht Haven when it fell.
Mr Lillywhite, 43, normally spends most of the year sailing around the world in the yacht, which he bought five years ago for holiday charters.
Plymouth Yacht Haven said an investigation was under way.
No injuries
Mr Lillywhite, who had been due to sail with Big Spirit on 1 October to the Canaries and the Caribbean, is now staying with friends.
"The incident is being investigated by our legal people," he said.
"That's all I can say at the moment."
Plymouth Yacht Haven said in a statement: "At lunchtime on Monday 19/09, Big Spirit, which was stored ashore in our yard, fell over.
"There was no-one on board and no injury was sustained.
"The boat was recovered at lunchtime on Tuesday 20/09.
"It is not yet known why the incident occurred and a thorough investigation is under way.
"We have provided all possible support and assistance to the owner, and the damage is now being assessed by insurance surveyors."