Antarctic survey vessel HMS Scott leaves Devonport base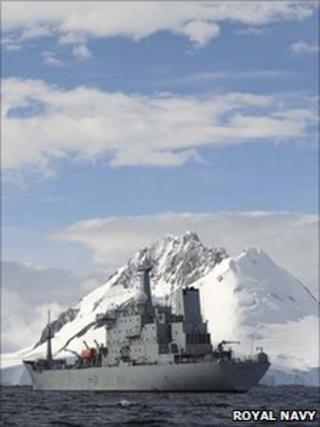 A Royal Navy ship has left Devonport Naval Base in Plymouth to continue its primary mission of deep water surveying.
HMS Scott is a hydrographic survey vessel, designed to map the ocean floor and gather information on the world's oceans.
After conducting tests off the South West coast, the ship is due to sail for the Atlantic.
HMS Scott returned to Plymouth in April after deploying to the Antarctic.
Commanding Officer Cdr George Tabeart said: "Following maintenance HMS Scott is now in fine fettle to return to her main role of ocean survey.
"After a tailored trials and training period in local waters, the ship will return to the deep ocean to continue adding to our knowledge of the seabed.
"While we have enjoyed the benefits of the advice, support and services available in Devonport... we are ready to resume our work having spent the longest ever period alongside in our home port."
HMS Scott, named after the ill-fated explorer Captain Robert Falcon Scott, is the fifth largest ship in the Royal Navy fleet and has a crew of 78.
During its stay in Plymouth, the crew of HMS Scott helped to celebrate the centenary of the Terra Nova expedition to Antarctica led by Cpt Scott.