Exeter students' mountain climb to honour war dead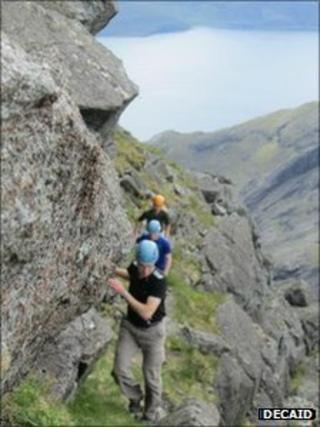 Two University of Exeter students have been honouring Afghanistan war veterans by climbing mountains in Scotland.
By Sunday Tom O'Connell, 24, from Looe, Cornwall and 21-year-old Alex Robinson, from Newbury in Berkshire, will have climbed 283 Munros (mountains).
The Munro Mission is part of the Dec Aid charity appeal to raise money for British armed forces charities.
Each Munro has been dedicated to a service man or woman killed in Afghanistan over the past 10 years.
A Scottish mountain can only be classed as a Munro if it is more than 3,000ft (914m) above sea level.
There is a total of 283 Munros and climbing all of them is the equivalent of climbing Mount Everest 14 times.
Tom is one of the co-founders of DecAid which was set up by people aged 25 and under to commemorate the 10th anniversary of the British Armed Forces in Afghanistan.
To complete the Munro Mission in seven weeks, the team has climbed an average of one Munro every 4 hours.
Ben More on the Isle of Mull was the first Munro to be tackled on 1 August and, weather permitting, the challenge should finish on Sunday at about 18:00 BST when Tom and Alex reach the summit of Ben Hope - the most northern Munro.
For the first four weeks Tom and Alex were joined by 51-year-old Ceri Green. Since then, various members of the 10-strong support team have joined the two climbers.
Mission spokesman Rupert Laing said the weather conditions over the past few days had been particularly "challenging", with heavy rain and very strong winds.
"The guys are having to walk extra miles because the rivers are so high they can't wade through them any more," he told BBC News.
So far the Munro Mission has raised more than £31,000 and the DecAid total is now sitting at nearly £100,000.
Throughout the challenge, Tom and Alex have been joined by bereaved families and friends - some of whom have joined part of the climb and others who have laid commemorative wreaths.
John and Moira Adams, whose son Kyle was killed in 2009, joined the team in the Cairngorms.
Pte Adams was one of three paratroopers killed when a bomb blasted the armoured vehicle he was travelling in near Lashkar Gah in Helmand province on 6 August
"I really don't have the words to describe how wonderful these young people are," Mr Adams said.
"I have such admiration for the enormity of their challenge."
A wreath for Pte Adams was laid at the summit of Lochnagar
Tom and Alex, along with a support team have been climbing for at least 17 hours a day, although their longest climb along the Cuillin Ridge was 27 hours and included "The Inaccessible Pinnacle" - notorious as the most difficult of the Munros, requiring an arduous rock-climb and abseil to complete the ascent.
End 'in sight'
If the final few days are successful, third-year student Alex will become the youngest person to summit all 283 Munros in a single continuous attempt.
All the money raised will be donated to the Soldiers, Sailors, Airmen and Families Association (SSAFA) and the British Limbless Ex-Servicemen Association (BLESMA).
Tom, who recently graduated from Exeter with a degree in Russian and Spanish, said although the end was "in sight" there were still some very long days ahead.
"We will really have to push ourselves to the limit over the coming week in order to finish within 49 days but we are confident that this can be achieved," he said.
The day after the Munro Mission is complete, Tom and Alex will both head back to Exeter, where Alex is due to start the third year of his economics degree.