Devon and Cornwall Police helicopter in airport move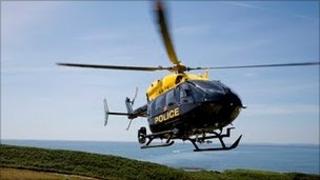 Police in Devon are relocating the force helicopter from police headquarters in Exeter to the city's airport.
The helicopter, which costs about £1.6m a year to run, will be moved to the airport in 2012, the force said.
It said the move to the airport could bring the force "millions of pounds" by developing the current site at Middlemoor in the city.
The Devon Air Ambulance will also be moving from Middlemoor to the airport.
Assistant Chief Constable Paul Netherton said the force had taken a 75-year lease on the airport site which would also save money in training and servicing costs.
"It's into millions of pounds that we will be saving if we manage to develop the site at Middlemoor," he said.
"I am not going to go into the details of that, but it makes operational and economic sense to move to the airport."
The force also has arrangements with neighbouring forces in Dorset and Avon to share the helicopter.