Battle over Devon woodland cycle tracks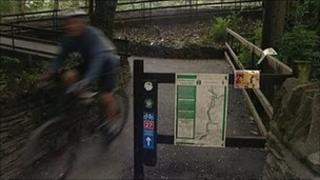 Campaigners are fighting plans to create a network of new cycle tracks in a Devon wood.
The National Trust says the 15km of trails in Plymbridge will allow access further into the woodland.
It wants to spend £800,000 on the scheme which will also include bike hire and a cafe.
But opponents, including Friends of Plymbridge Woods, say the trail will damage the woodland, a claim which the National Trust rejects.
The National Trust came up with the idea as part of a £7.5m investment in off-road cycling in Devon and Cornwall.
'Absolutely incensed'
Trails are also planned at the National Trust's Lanhydrock estate in Cornwall and on Forestry Commission-owned land at Cardinham, near Bodmin.
The money, from Sport England and the Rural Development Programme for England, is part of the 1SW regional project which aims to develop south west England as a destination for cyclists.
The plans are due to be considered by Plymouth City Council on 22 September.
The trail will include 10km of moderate grade trails and 5km of difficult grade trails.
Friends of Plymbridge Woods says the trail will affect wildlife including badgers, deer and peregrine falcons.
Acting chairman Arthur Ainslie said: "We are absolutely incensed that the National Trust should be proposing to damage these ancient woodlands by putting a trail for mountain bikes through them."
Jim Pascoe, of the National Trust, said the trails had been designed with an independent ecologist and no mature trees would be taken down.
The trails would follow the lines of existing tracks made by deer and other areas where vegetation had already been damaged.
An existing cycle route through the woods follows a former railway line to Dartmoor.
"The amount of people using this small section of woodlands has put pressure on it," said Mr Pascoe.
"The proposed tracks are more spread out and aimed at families."
Cyclist Bill Somerville said: "Anything that gets people into the countryside is good. There is a massive revival in cycling which needs supporting."