'Extinct' ladybird found breeding in Devon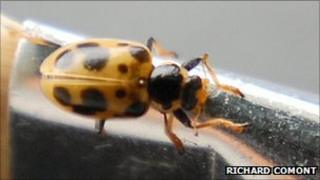 A species of ladybird that was considered extinct in the UK in 1952 has been found breeding in east Devon.
In the past 60 years the 13-spot ladybird - Hippodamia tredecimpunctata - has "occasionally" been sighted in the UK, the Centre for Ecology & Hydrology said.
Now a single ladybird larva has been discovered by a University of Exeter student in wetlands in the Axe Estuary.
The organisation said it was the first breeding record since 1952.
'Significant discovery'
PhD student Richard Comont found the larva while he surveyed the area for wildlife.
He said: "As soon as I saw the larva I was fairly sure it was a 13-spot - it's something I've dreamt of finding. 
"It's such a significant discovery that I took it back to rear it to adulthood, to make absolutely sure.
"When it finally hatched into an adult I could confirm it as the first native 13-spot for 60 years."
Andrew Whitehouse, from Buglife, a charity dedicated to maintaining sustainable populations of insects, said: "Many of Britain's invertebrate populations are declining at a drastic rate.
"It is great to have some good news."