Therapy yacht Sarie Marais hit by boat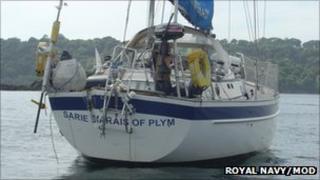 Therapeutic sailing lessons for military personnel returning from Afghanistan could be at risk after a yacht was damaged in a "hit and run".
The Sarie Marais was moored off Drake's Island in Plymouth Sound when it was badly damaged by another vessel.
The 39ft (12m) yacht now requires major repairs.
There are fears the work will not be completed in time for the scheduled stress-beating sessions offered to service men and women.
Sailing 'important'
The Sarie Marais, which belongs to the Royal Marines at Stonehouse Barracks, was on a mooring opposite Millbay docks when was struck in the stern by an unidentified vessel in the early hours of Sunday.
The incident was not reported and if the repairs cannot be finished in time, the scheduled "rest and recuperation" for the armed forces personnel may have to be cancelled.
The Sarie Marais, which can carry seven crew, is used every two years for the recovery from conflict in Afghanistan.
MoD Police hope that a passing fishing boat or someone fishing from the shore may have seen the incident which is thought to have happened between 02:00 and 04:30 BST.
An MoD spokesman said: "We are keen to help the police solve this incident.
"We hope to avoid the yacht being out of action and hope to avoid depriving troops, who have been deployed on operations, of badly needed post-operational adventurous activity.
"This sailing activity package is important to help in the well-proven 'decompression' process which helps troops reduce stress and reacclimatise to life away from the intensity of conflict in Afghanistan."