Councillors accept Plymouth City Airport closure notice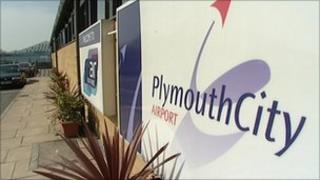 The closure of Plymouth Airport will go ahead in December, after councillors accepted it was no longer viable.
Sutton Harbour Group, the airport's operator, announced its intention to close the airport earlier this year.
Several airlines and airport operators were approached about running a downgraded service, but all declined.
Plymouth City Council's cabinet accepted the views of three different consultants that there was no economic rationale to keep the airport open.
Air Southwest, the airport's sole carrier, stopped flights in July, saying Plymouth routes were no longer financially viable.
Development protection
A study by aviation experts Berkeley Hanover Consulting found there were not enough profitable routes out of Plymouth and the uncertainties and costs of trying to achieve even a modest route network would be a "substantial risk".
It also highlighted the short runway at Plymouth, which restricted aircraft types and prevented holiday charter markets.
Councillor Ted Fry said: "We have used three consultants here - not just one, not two, but three... and they have advised us that, commercially, there is no future for Plymouth City Airport.
Despite accepting the closure of the airport, he said, the council would protect the land from development in the short term.
Councillors also agreed to look at how Flag Officer Sea Training and search and rescue helicopters can continue to use the airfield.
They also intent to lobby the government for improved rail links.