Exeter family hit twice by cancer 'fights on' for child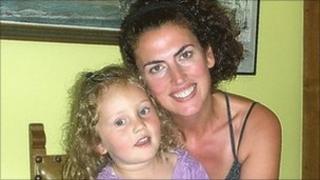 A family from Devon struck twice by cancer has said giving up is "simply not an option".
Terri Bainbridge, who lives in the St Leonard's area of Devon, discovered she had advanced breast cancer earlier this year.
In June, while the 40-year-old was undergoing gruelling chemotherapy, her four-year-old daughter Billie was diagnosed with an inoperable brain stem cancer.
Radiotherapy at University College Hospital (UCH) in London has shrunk the tumour, but with no further treatment available, the family hopes clinical trials in the United States could give Billie a future.
Stroke-like symptoms
Billie's tumour - diffuse intrinsic pontine glioma - is rare, affecting only about 40 children a year in the UK.
"We first noticed something was wrong when we noticed her eyes and mouth were drooping - it looked like she'd had a stroke," Mrs Bainbridge told BBC News.
An MRI scan was carried out at the Royal Devon and Exeter Hospital (RD&E), where doctors warned Billie's parents they were "50% sure they would find a tumour".
Confirmation than it was not only a tumour, but an inoperable one, was "horrible, absolutely horrible", Mrs Bainbridge said.
The tumour was on the brain stem, which controls all the body's vital functions, and the prognosis was that Billie was unlikely to survive for more than 12 months.
"After she was diagnosed, we were seeing her deteriorate on a day-by-day basis," Mrs Bainbridge said.
Although the results of the radiotherapy have been very positive, oncologists have said nothing more can be done, apart from steroid treatment to alleviate the symptoms.
With further radiotherapy not possible, the tumour will grow back.
"She's responded brilliantly to radiotherapy... but we've been told it's just the honeymoon period and she'll deteriorate again in weeks or months."
Simon Parke, consultant paediatrician at the Royal Devon and Exeter Hospital, told BBC News Billie had had the "best possible conventional medical treatment".
"Despite this treatment, sadly, the prognosis for children with this type of tumour remains poor.
"We continue to do our best to support and care for Billie and her family during this difficult time."
Trying to lead a normal life, the family recently spent a camping holiday in Cornwall, where Mrs Bainbridge grew up and where her family still lives.
"Billie thinks she's better, and she's really really happy, and you have to focus on that as much as possible and keep hope that she can be cured - otherwise you can't get up in the morning," Mrs Bainbridge said.
The family is hopeful Billie can benefit from a clinical trial programme at the Burzynski Clinic in Houston, Texas.
The therapy involves antineoplastons - naturally occurring peptides in the body.
Research by Dr Stanislaw Burzynski observed cancer patients typically had a deficiency of certain peptides in their blood.
The antineoplaston therapy aims to target the cancer without destroying normal cells.
Mrs Bainbridge said she and her husband Sam were "sceptical" at first.
Nursery ball
"But you can either do that or do nothing and I couldn't bear to do nothing," she said.
The treatment is not available in the UK and the RD&E has taken blood samples, with the results being sent to the Burzynski Clinic for a treatment plan.
Unlike the NHS in the UK where treatment is free, the Bainbridges will have to pay for Billie's treatment which could cost about £100,000,
"I'm hoping that if and when it is successful for Billie we can shout about the treatment from the rooftops," Mrs Bainbridge said.
Of her own battle against cancer, she said: "Touch wood I'm OK at the moment.
"I feel fine. I'm having radiotherapy every day in Exeter so hopefully that's sorted it."
Having cancer herself had helped to explain Billie's illness to her.
"How do you tell a four-year-old they have a tumour?," she said
"I said 'mummy had a lump and it was taken out but unfortunately you have a lump they can't take out and so they have to shrink it' - and she just said 'OK'.
"She just took it in her stride, it was amazing."
The couple, who also have a two-year-old son Joe, said friends and family had been a tremendous support.
A website has been set up to help raise money for Billie's treatment, and her nursery, Munchkins in Exeter, has organised a ball at Sandy Park on Saturday.