University of Exeter to use Nasa Hubble Space Telescope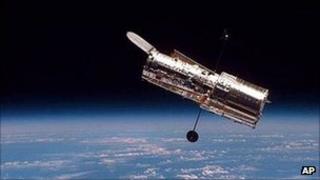 An international team of scientists led by the University of Exeter has secured nearly 200 hours using Nasa's Hubble Space Telescope.
The team said that securing nearly 200 hours' use of the telescope made its project one of the biggest ever.
They are planning to explore the atmospheric conditions of planets outside our solar system, known as exoplanets.
The university described securing the use of the telescope as a "major coup".
Lead researcher Dr David Sing, from the University of Exeter, said: "This is one of the biggest exoplanet research programmes ever using the Hubble Space Telescope.
"Astronomers have now detected hundreds of exoplanets and we now know that some of these have extreme environments, unlike anything in our own solar system."
The research team, includes scientists from the University of California, the University of Arizona, and Oxford University.
Observations will begin in October, with data collected being analysed during the next two years.