Torquay man Paul Bailey wins AA disability case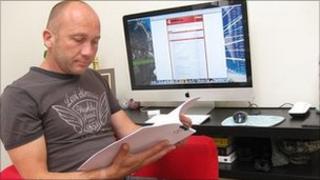 An AA patrolman from Torquay has won a disability discrimination case against his employer.
Paul Bailey was diagnosed with diabetes in 2009 and was advised by a doctor to take a "measured approach" at work, which affected his performance.
An employment tribunal found the AA had subjected him to discrimination.
The company said it took "responsibilities for diversity issues very seriously" and it was working with him to reach a "satisfactory outcome".
'Tried my best'
Mr Bailey was diagnosed with type 1 diabetes in June 2009.
"I've always been a good performer in the company, but when I was diagnosed I couldn't keep up with that anymore," he said.
A series of events followed including a training support patrol being sent out with him for two weeks, Mr Bailey added.
The tribunal found that Mr Bailey's performance did not warrant a training support assessment as his work remained average.
Mr Bailey said: "I was offered three months' salary to leave or be placed on an improvement plan, which I was told I would not pass - which I refused.
"I didn't ask to get diabetes. I've always tried my best with everything I do. Morally, I thought it was wrong," he added.
'Absolute win'
The Employment Tribunal held that Mr Bailey had been subjected to direct disability discrimination, harassment and a failure to make reasonable adjustments because of his disability, said Simpson Millar Solicitors that represented him.
Mr Bailey said: "I won on 18 charges. It wasn't a close decision - it was an absolute win.
"It's brilliant for anybody in my position who's working for a firm and feeling pressured that you can stand up to a company of that size and win."
The AA said: "We received the judgement made by the Employment Tribunal regarding Mr Bailey and take on board their comments.
"We take our responsibilities for diversity issues very seriously and are working with Mr Bailey to reach a satisfactory outcome and he remains in the AA's employment."
Paul Grafton, from the GMB Union, which represents staff in the AA, said: "The outcome for Mr Bailey is clearly a huge step forward to recognizing diabetes within the workplace and forcing employers to act appropriately."