Paignton Zoo gorilla helps make charity walking sticks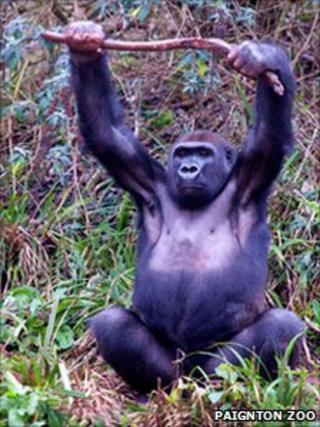 Walking sticks "made" by a gorilla at a Devon zoo are being sold, to help ape conservation.
Kumbuka, a 13-year-old lowland gorilla at Paignton Zoo, helps by stripping the bark off lengths of hazel.
The stick is then retrieved by keepers and finished off by Dave Ellacott, a warden at Whitley Wildlife Conservation Trust.
The varnished walking sticks are sold on eBay, with the money going to help protect the endangered species.
Craig Gilchrist, Paignton Zoo's head keeper, said: "The gorillas love to chew, gnaw and strip the bark off sticks.
"He broke most of the sticks we gave him, but some of the chunkier ones were okay."
Dr Kirsten Pullen, a research officer for the conservation trust, said: "I have seen a few gorilla sticks sold at specialist gorilla conferences to raise funds for conservation, but this is a rare chance for the wider public to bid for an extraordinary object with a direct link to a named gorilla."