Devon baby Lottie remains stable after liver transplant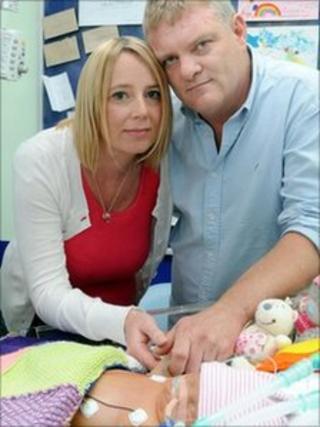 A five-week-old baby from Devon who has undergone a liver transplant in Birmingham remains in a stable condition, the hospital says.
Lottie Bryon-Edmond, from Torquay, underwent the surgery on Thursday night at Birmingham Children's Hospital.
She needed the transplant after developing the rare condition neonatal haemochromatosis, which meant toxic levels of iron built up in her liver.
She was stable but still in intensive care, the hospital said.
Lottie had been top of the super-urgent list for transplants for 14 days and doctors said she could have died at any time before the procedure.
Chris Bryon-Edmond said his daughter was doing "incredibly well" immediately after the seven-hour operation.