Devon baby has 'live' donor liver transplant in Birmingham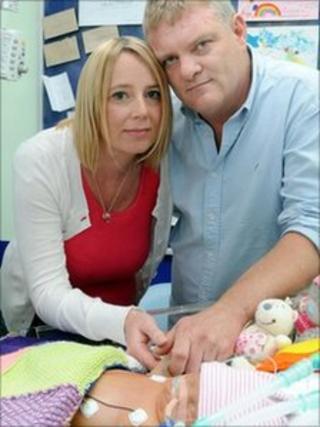 A critically ill baby from Torquay is recovering in hospital after undergoing a liver transplant in Birmingham.
One-month-old Lottie Bryon-Edmond underwent the surgery on Thursday night at Birmingham Children's Hospital.
She needed the transplant after developing the rare condition neonatal haemochromatosis, which meant toxic levels of iron built up in her liver.
The liver was from a live donor, her father said. Lottie was in a stable condition, the hospital said.
'Strong little thing'
Earlier this week, her parents, Chris and Julie, made a desperate plea for an organ donor to save their daughter's life.
Lottie had been top of the super-urgent list for transplants for 14 days and doctors said she could have died at any time before the procedure.
Mr Bryon-Edmond said his daughter was doing "incredibly well" after the seven-hour operation.
He added: "She's such a strong little thing. She's not out of the woods yet, but she's doing really well.
"There's been a huge amount of excitement but also a huge amount of fear. Our emotions have been thrown all over the place.
"We're honoured to have been offered the liver by the parent of a child who hasn't died. It was just beyond belief, really."
"We knew the dangers of an operation like this were massive, but we also knew that the ultimate chance of Lottie living were for her to have this operation."
Only livers from a child up to the age of 14 were suitable because of Lottie's age.
The hospital said that, in rare cases, a liver which did not function in one person may function in another, and may be transferred quickly to prevent it from being wasted, which could be termed as coming from a live donor.
However, it added that it could not confirm that this was the case in Lottie's procedure.