Prehistoric burial chamber on Dartmoor excavated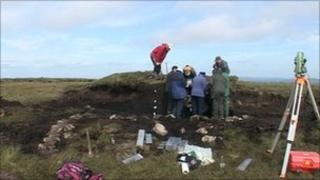 Archaeologists have begun excavating a prehistoric burial chamber on Dartmoor in Devon.
The burial chamber, known as a cist, is on Whitehorse Hill, near Chagford.
It was discovered 10 years ago when one its stones fell out of the peat which had been concealing it.
Dartmoor National Parks Authority (DNPA) said it was over 100 years since a burial chamber on Dartmoor had been excavated.
It said the chamber was unusual because it was not near any other known archaeological sites.
Archaeologists hope to analyse buried pollen, insects and charcoal in the peat to establish details of the surrounding landscape when the chamber was created.
Artefacts search
They are also looking for artefacts deposited as part of the burial ritual, including pottery, beads and stone tools.
It is believed the burial took place about 5,000 years ago.
DNPA said the prehistoric cists found on Dartmoor were chest-like structures, usually sunk into the ground, with two long granite side slabs and two end slabs set between the sides and covered with a large slab.
There are nearly 200 surviving cists on the moor.
The results of the excavation at Whitehorse Hill will be published later in the year.