Water pipe evaluation leads to Pinhoe Iron Age remains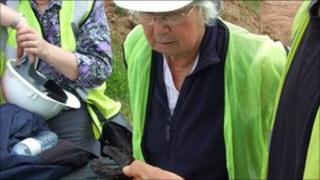 An ancient Iron Age settlement has been uncovered by archaeologists working for South West Water in Devon.
It was found during an archaeological evaluation of the route of a new water mains between Beacon Hill reservoir, near Exeter, and the town of Cranbrook.
Archaeologists were investigating a large prehistoric enclosure below the ground which was discovered by carrying out surveys from the air in 1996.
Among the finds were shale bracelets and an iron-working furnace.
Excavations showed the enclosure would originally have had a massive bank inside a ditch.
'Days before JCBs'
James Field, South West Water's (SWW) ecologist and environmental planner, said it was an important settlement
"Someone went to a lot of trouble to construct this ditch in the days before JCBs," he said.
"In the lower layers of the ditch we have found a pile of broken bracelets made of shale - an oily, soft rock.
"Within the enclosure was an Iron Age iron-working furnace, which again is rare in the county.
"It is probable that the shale itself comes from as far as Kimmeridge in Dorset, which poses important questions about the significance and nature of this enclosure."
Devon County Council archaeologist Frances Griffith said: "It is of great interest to see this site partially excavated.
"The shale finds are an important discovery, as yet unparalleled in Devon."
The trenches will be refilled when the evaluation is complete and all finds analysed and archived.
Construction work on the pipeline is due for completion by the end of the year. The new mains will feed the new town of Cranbrook when it is built.