Berry Head battle in Napoleonic Wars fundraiser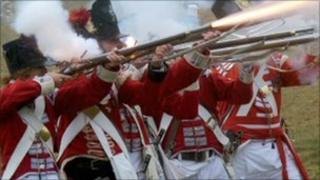 Thousands of people will be experiencing a flavour of the Napoleonic Wars - in Torbay, Devon.
The Battle for Berry Head re-enactment has been organised to raise funds for the local Coast and Countryside Trust.
About 150 soldiers and camp followers have set up home in authentic ridge tents, within the recently preserved Napoleonic forts on the site.
Organisers said the highlight would be the storming of the besieged French army barricaded into the Southern Fort.
Marching drills
Carolyn Custerson, from English Riviera Tourism, said: "Major events like The Battle for Berry Head are powerful tools in raising the awareness of the English Riviera nationally.
"Berry Head is one of the really spectacular features... and it's the perfect location for this great weekend event."
Drills will take place throughout the day and children will be encouraged - or press-ganged - to drill and march, dressing up in uniforms supplied by Brixham Museum.
The trust has also organised 19th Century themed children's activities during the event.
"We are all looking forward to what should be a really dramatic event on the headland and an important fundraiser for Torbay Coast and Countryside Trust," trust spokeswoman Kate Foster said.