Plymouth Airport 'should be mothballed'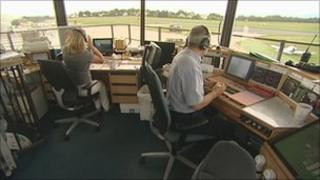 Mothballing Plymouth's airport until the financial climate improves may help safeguard its future, a planning expert has said.
The last commercial flight - by Air Southwest, the airport's sole carrier - departed on Thursday and the airport is due to close in December.
Prof Chris Balch, from the University of Plymouth, said the site should be maintained for several years.
He said that if the economy picked up in that time, it may save the airfield.
'Major development'
The airfield, which has been operating for about 90 years, is currently still a base for private aviation and a flying school. There are also some Royal Navy helicopter movements.
However, the airport's operators, the Sutton Harbour Group, said there was no longer any profit in the airport itself.
BBC South West Business Correspondent Neil Gallacher said: "In theory, the city council, which owns the land, could refuse to accept their decision to close.
"But that would only amount to anything if the council could come up with its own way to keep the airport operating.
"For those who still believe the city simply needs an airport, the best hope could be that the site itself gets mothballed while the economy waits to pick up."
Prof Balch said: "Given that there is uncertainty about the speed at which development can take place, it may take five, perhaps six years for the economy to recover properly to enable major development to happen again.
"Perhaps mothballing that site and hoping that aviation can be re-established there is a possibility."
Plymouth City Council said a study was being done into the site's future.