Grammar school 'failure' fear raised by head teacher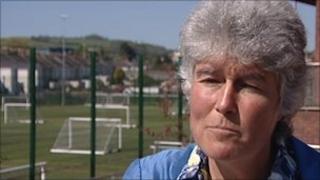 Some children who do not get into one of Devon's grammar schools feel they have "failed", a secondary school head teacher said.
Paignton Community College is rated outstanding by inspectors Ofsted.
But principal Jane English said pupils not selected by the grammars needed convincing they would be successful.
The government wants to allow successful academies including grammars to take on more pupils and is consulting on changes to admissions.
Sharing teachers
Many grammar schools, which select children on their academic abilities, were phased out in the mid 1960s.
But there are still more than 200 in the UK, including three in the Torbay area.
Ms English told BBC News: "We start with one arm tied behind our back would be the way of describing it.
"We have some children who arrive in year seven feeling that they've failed, that they haven't made it to a grammar school.
"So our first job is to convince them that they will be very successful here in our school."
The Department for Education said there were no plans to end academic selection in grammars, but there may be more collaboration between them and non-selective schools.
Many already work together to run some courses, sharing teachers and students to make cost savings.
The government's consultation over changes to admissions finishes in August.