Facebook sex abuser Jake Ormerod jailed for 10 years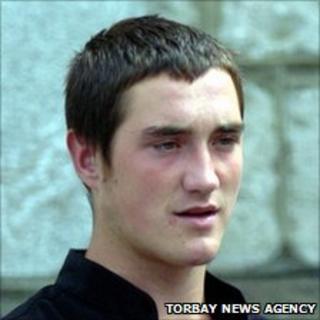 A man who admitted abusing girls he met through Facebook has been jailed for 10 years.
Jake Ormerod, 20, of Babbacombe Road, Torquay, Devon, admitted 13 charges at Exeter Crown Court relating to eight girls as young as 13.
Police said he was part of a paedophile gang who used the social networking site to target victims.
Ormerod was arrested during a large-scale inquiry into child sexual exploitation in south Devon.
In May Ormerod admitted one charge of sexual assault on a child, plus 12 charges of sexual activity with a child - seven when he was aged under 18 and five when he was 18.
Police said they had interviewed 139 young girls, some as young as 11, as part of the investigation.
'A lifetime of pain'
Det Insp Simon Snell said: "I believe that he's a very manipulative individual who has preyed on vulnerable kids, and some of these children obviously believe that Jake Ormerod was their boyfriend.
"That's just not possible. They're just young children, they're easily impressionable. I think that they probably realise now what a man this is.
"We are pleased today that we can get a conviction and a sentence and I hope it shows some justice has been made for some of those girls today."
During the case the court heard that lives had been "shattered" and childhoods "destroyed" and one of the victims had attempted suicide.
In a thoughts-book, one of the girls wrote: "I'm a ghost of the person I was.
"My pride, dignity and self worth were snatched away from me, I've got a lifetime of pain and shame.
'I think he's scum'
"My confidence has been shattered and I have no self esteem anymore, my childhood was snatched away by Jake Ormerod."
Talking anonymously, the mother of one of the victims who was 14-years-old at the time said: "The first thing that I think about Jake Ormerod is that I'm glad he's banged up.
"He has worked through the last two, three, probably four years grooming young vulnerable girls.
"He has cherry-picked them, worked on them and then sexually exploited them. So what do I think of Jake Ormerod? I think he's scum."
Ormerod was arrested in February as part of the police investigation, Operation Mansfield, which had started in January.
The operation was a large-scale investigation into the exploitation of children from the Torbay and Teignbridge areas.
More than 16,000 parents at south Devon schools were sent letters informing them that a major child abuse investigation was being carried out by Devon and Cornwall Police.
Ormerod will serve his sentence in a young offenders institute and could be released after five years of the term.
The charges covered a period of three years.