Parent glad Jake Ormerod jailed for 10 years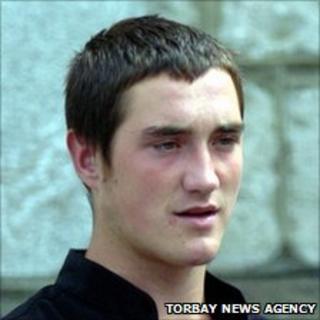 The mother of a girl abused by Jake Ormerod has called him "scum".
Jake Ormerod, 20, of Babbacombe Road, Torquay admitted in May he abused eight girls, as young as 13, he met through Facebook.
He was sentenced to 10 years in prison at Exeter Crown Court.
The anonymous parent said: "The first thing that I think about Jake Ormerod is that I'm glad he's banged up."
'Cherry picked'
She said her daughter had known Ormerod for several years prior to the police investigation and had even stayed at his house after running away from home.
"He has worked through the last two, three probably four years grooming young vulnerable girls.
"Grooming them on the internet, in social situations, pretending to befriend them, shown them kindness and that he's a really decent, gentle guy, but he isn't.
"He has cherry picked them, worked on them and then sexually exploited them. So what do I think of Jake Ormerod, I think he's scum."
The mother said she had a close relationship with her daughter and that while she admitted drink and drugs had been involved with Ormerod, she initially denied "sexual goings-on".
"I have since asked her what stopped her from telling me, and mostly it was shame, and what had happened. She felt responsible for it.
"The most important message that you can give to any child in this situation is that it is not their fault."
The police investigation, Operation Mansfield, started in January with Ormerod, of Babbacombe Road, arrested in February by officers investigating the exploitation of children from the Torbay and Teignbridge areas.
Thousands of parents at south Devon schools were sent letters informing them that a major child abuse investigation was being carried out by Devon and Cornwall Police.
She said her daughter had initially coped with the investigation saying "don't worry about it mum it hasn't scarred me for life" but "things didn't stay like that.
"She couldn't walk anywhere without seeing it on the paper or hearing about him on the news, and gradually she became very distraught about the whole thing."
Police said Ormerod was part of a paedophile gang which used Facebook to target victims, grooming and targeting homeless youngsters and picking them up outside schools.
Det Insp Simon Snell, who led the operation, said: "Slowly and surely they began to pretend that they were the boyfriends of the victims.
"But there is no way these girls could pretend to be the girlfriends of sex offenders."
During the court case Ormerod admitted one charge of sexual assault on a child, and 12 charges of sexual activity with a child - seven when he was aged under 18 and five when he was 18, over a three year period.
The victim's mother said: "I think she's on the mend, but she's been in a very dark place. She has had to revisit situations, emotions, thoughts about herself.
"I'm not advocating locking up your daughters, but we all need to be so vigilant and keep channels of communication.
"There's only one person who's responsible for this and that is the perpetrator, that is Jake Ormerod."