Navy Afghan war objector Michael Lyons detained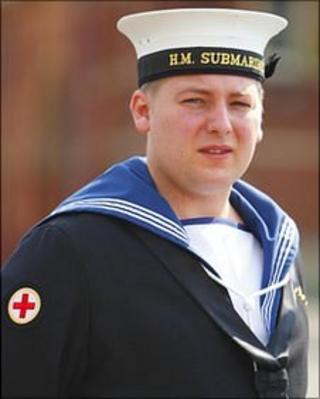 A Royal Navy medic has been sentenced to seven months' detention after refusing to undergo rifle training.
Leading Medical Assistant Michael Lyons, 25, of Plymouth, said he had a "moral objection" to bearing arms and the war in Afghanistan.
At the time he refused training as he was waiting to have his status as a conscientious objector confirmed. It was later rejected.
He was found guilty of disobeying a lawful order, at a court martial.
Lyons will serve his sentence in a military correction facility.
He had denied a charge of disobeying a lawful order, but was found guilty by a panel of senior officers at Portsmouth Naval Base.
Lyons, who had been based at HMS Drake in Plymouth, was also demoted to the rank of able seaman and dismissed from the service.
'Chain of command'
Judge Advocate Alistair McGrigor said: "We are undecided whether your views are genuine or you grasped the straw of conscientious objection as you didn't wish to serve your term.
"Service personnel cannot pick and choose what service orders they carry out. Disobedience undermines the chain of command and service effectiveness."
His supporters stood up and applauded as he was marched from the court.
The medic had been sent for a pre-deployment course on how to use the SA80 service rifle at HMS Excellent in Portsmouth on 20 September 2010.
He was ordered to commence the course by Warrant Officer Robert Bainbridge but refused, the court was told.
As a medic, he objected to being trained to use a weapon and was against the war itself.
Commander Darren Reed, prosecuting, said Lyons told police in interview that he felt he "wasn't able to carry out the order on moral and ethical grounds".
Mr Reed added: "He did believe that was an unlawful order."
'Impeccable politeness'
Fiona Edington, defending, said Lyons originally joined the navy at 18 but had since developed a moral objection to the war in Afghanistan.
"Throughout the time he has behaved with impeccable politeness. This is an isolated incident by a man with a conscience," she said.
She told the court medics had a "protected status" under the Geneva convention, meaning they were non-combatants who had a right to bear arms for self-defence and the protection of a patient.
At a hearing of the Advisory Committee on Conscientious Objectors (ACCO), Lyons had said he could not serve in Afghanistan after reading the WikiLeaks revelations and learning he might not be able to treat everyone.
"If you're at a patrol base or forward operating base, it's likely you'll have to use your weapon and will have to turn civilians away who are in need of medical aid.
"If more people in my position stood up, there would be a lot less innocent lives lost around the world," he said.
His court martial was only the third to be held with conscientious objection as a defence.