Jack Russell's boots prevent grass allergy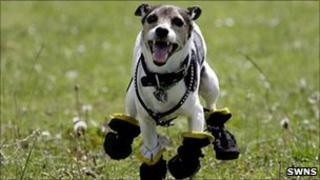 A Jack Russell terrier from Devon has been dressed in special boots because it is allergic to grass.
Owner Maria Domanic, 59, from Kingsbridge, acted after Jaxs seemed in pain and gnawed at his paws after walking on grass.
Tests by a vet showed Jaxs is not only allergic to grass, but also milk, protein and oats.
The vet suggested Ms Domanic fit him with Mediboots, which are made of canvas.
Retired care worker Ms Domanic said: "I've had a few people make some odd comments branding me cruel and disgusting for dressing him up in clothes.
'No fashion statement'
"I have to explain it's for his own good and not some fashion statement I'm trying to make."
She said Jaxs "absolutely loves" the boots.
"Initially, he was a little tentative but over time he's become very protective of them."
Michael Day, of South Moor Vets in Kingsbridge, said an allergy to grass was "quite common" in dogs.
"It is rarer for it to be so confined, especially in a smaller dog whose tummy could also be affected," he said.
"A physical barrier is an effective solution."