Work starts on Cranbrook 'eco-town' in east Devon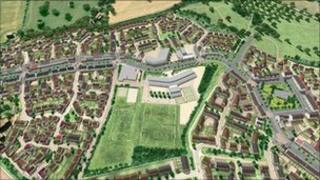 The construction of a new "eco-town" in east Devon is due to start later.
The plan for the Cranbrook includes 2,900 homes, as well as schools, shops, a library and energy plant.
Developers say the town will create a "self-sufficient, low-carbon community" which should reduce the need for car travel between work and home.
But Friends of the Earth in Exeter say the plan is not sustainable and will initially create more car travel.
Councillor Paul Diviani, leader of East Devon District Council, said: "This is a real red-letter day for Exeter and East Devon.
"It signals a massive investment and vote of confidence in the future economy of this wonderful area, offering hope to our many families who need homes and jobs in the district."
'It's damaging'
But Maurice Spurway, co-ordinator of Friends of the Earth in Exeter, said: "In the first 20 years of Cranbrook's life... travel patterns will be dictated by the car because people will be working in Exeter.
"This is the period that climate change is at its most vulnerable.
"From that point of view it's not sustainable, in fact its damaging.
"You should focus on existing communities first.
"Large cities have jobs not homes and rural areas have homes not jobs, so you need more homes in cities and more jobs in rural areas.
'New community'
"What you do not do is build a new community in the countryside, which will inevitably be unbalanced."
Cranbrook, the proposed Exeter Science Park, Skypark business park and Exeter Gateway freight terminal are all part of a planned development collectively known as Exeter Growth Point.
In response to Friends of the Earth, a spokesperson for Exeter Growth Point, said: "The planning of Cranbrook addresses these issues head on.
"There are planned employment sites at neighbouring Skypark, Exeter Science Park and the Exeter Gateway facility, plus business premises in phase two of Cranbrook itself.
"Bus and cycle routes, the new train station and the low-carbon district heating system all play a key role in this approach to creating this new community."
Cranbrook is a public and private sector development and has had funding from the Homes and Communities Agency (HCA) and the South West Regional Development Agency (SWRDA).