Safety fears over Devon and Cornwall police traffic cut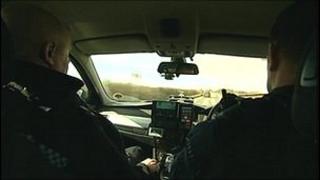 There are warnings there could be more deaths on Devon and Cornwall's roads because the police force no longer has a dedicated traffic unit.
The Devon and Cornwall Police Federation said traffic officers were being diverted to other duties.
Devon and Cornwall Police said the number of traffic police had not been reduced but they were now being used more "flexibly".
The traffic unit was scrapped in May to help the force save £47m.
Nigel Rabbits, chairman of the Devon and Cornwall Police Federation, told BBC News: "Currently, killed and serious injury accidents have risen in Devon and Cornwall.
'Very concerned'
"Without a dedicated resource to drive that down and have initiatives, my members are really concerned that that trend will continue to rise."
The BBC has learned that two road safety operations to check the roadworthiness of lorries have already been cancelled because of the traffic changes.
And in one case it is understood a stolen car spotted on the M5 in Devon could not be stopped because the vehicle which would normally have been on patrol had been called into Exeter.
Assistant Chief Constable Paul Netherton, from Devon and Cornwall Police, told BBC Radio Devon: "We haven't reduced the number of traffic officers we've got.
"We still have exactly the same number of advanced traffic drivers and we're still putting out the same number of armed response vehicles.
"What we're trying to do is be flexible in how we use them."
Ken Williams, from Okehampton, lost his niece in a road crash and now campaigns for the road safety charity Roadpeace.
He said: "We are very concerned if the visibility of the police on the roads and the accessibility to the public is compromised.
"The biggest issue is the question of speed and I think most people know how they react when they see a police car, when they see a policeman in the street."
The police traffic unit was absorbed into a general emergency response pool last month in order to help meet government spending targets.
Seven hundred officers, out of a total of 3,500 are also being cut.
Mr Rabbits said the savings amounted to a 20% reduction in the strength of the force.