British Ceramic Tile in Newton Abbot could shed 86 jobs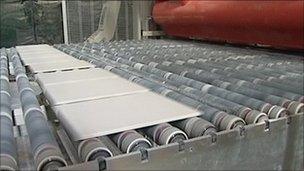 Eighty-six jobs are under threat at a tile manufacturer in Devon.
British Ceramic Tile, in Newton Abbot, is beginning a 30-day consultation with staff over proposals to cut the number of shifts from four to three.
That could lead to the loss of 69 manufacturing jobs. A further 17 could go in business support and sales.
The company said falling demand and a new kiln which had increased capacity of the plant, meant it needed fewer workers.
The firm, which opened a new £40m factory on the site in 2009, has gone from employing 250 workers 12 years ago to about 380 now.
A spokesman said: "Market conditions have continued to be at least as difficult as they were in 2010.
"The additional capacity provided by the new kiln will allow production of sufficient tiles to meet current market demand with fewer shifts."
Chief Executive Matthew Gazzard said: "Since the further phase of investment in production equipment began, market conditions have proven to be worse than expected.
"Despite the best efforts of the company, it is with considerable regret that we are entering into a collective consultation process."
Tiles have been made on the site at Heathfield since the 1850s.
Related Internet Links
The BBC is not responsible for the content of external sites.