HMS Somerset receives flight safety award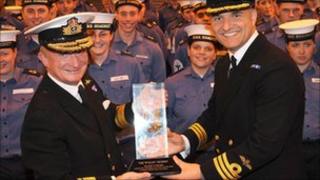 A Plymouth-based frigate has been presented with an award for helicopter flight safety while on deployment in the Arabian Gulf.
The crew of HMS Somerset were presented with the Wigley Trophy which was awarded for the ship and helicopter crews' team work and flight skills.
Commanding officer Paul Bristowe said he was "immensely proud".
HMS Somerset will leave Devonport later this summer to conduct maritime security and counter-piracy operations.
The trophy was presented in honour of captain A N Wigley who was killed in December 1984 when his helicopter crashed into the breakwater of Portland Harbour.