Football field mow volunteer fined for red diesel use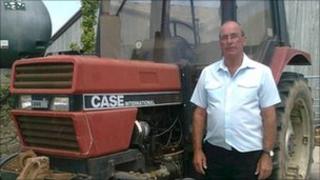 A north Devon farmer who mows a local football pitch for free has been fined £250 for having red diesel in the tractor he uses for the work.
John Thorne has been mowing the Hartland Football Club's field for free every fortnight for a year.
His tractor was examined by customs officials earlier this week.
HM Revenue and Customs (HMRC) said it was illegal to use it for mowing as it was was purely for agricultural, horticultural and forestry use.
Fine criticised
Mr Thorne said he was issued with the on-the-spot penalty earlier this week after an inspection by three officials who arrived on the pitch in Bideford and found him using the lower-taxed fuel.
He said: "I just felt as if I'd a stash of drugs or something.
"I think there are plenty more people who don't know that were committing an offence while cutting playing fields."
The fine has been criticised by the club and the local MP.
Club chairman John George said: "This is a charitable organisation. I think it's just ridiculous to fine a man £250 for helping his local community."
Torridge and West Devon MP Conservative Geoffrey Cox said it was an "astonishing and disproportionate reaction".
He said: "It's heavy-handed. I really can't see why a warning was not enough."
Bob Gaiger, of HMRC, said that the officers of the road fuel testing unit "had no choice in the matter".
He said: "We have defined what constitutes the legal use of red diesel.
"This was outside of that scope of what the law allowed and the officers had to take action."
He added that customs officers did not have the discretionary powers to give warnings like police did, but that Mr Thorne could use an appeals procedure.