Swimmers stopped at Dawlish beach after test failure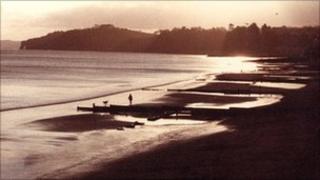 A south Devon beach has been closed to swimmers after failing an Environment Agency water quality test.
Warning signs were put up at Dawlish town beach after it failed the routine test which is carried out frequently during the summer.
Teignbridge District Council said the signs would remain on the beach until the water quality had improved.
The Environment Agency said further samples of the water had been taken and the results would be known on Friday.
Holidaymakers 'surprised'
The tests are conducted every seven to 10 days between 1 May and 30 September and this closure has been the first instance of a failure at the beach this season.
Kevin Lake, from the council, said: "We're hoping that the tests will come back negative so that we can obviously clear the beach.
"We did a sample test on Sunday, and we think with heavy rainfall [it] has caused a slight record of a pollutant.
"What we've done is immediately put signage up on the beach to advise bathers temporarily not to bathe in the water."
Holidaymakers said they were "surprised" they would not be able to swim at the beach.