Devon soul star Joss Stone keeps roots in county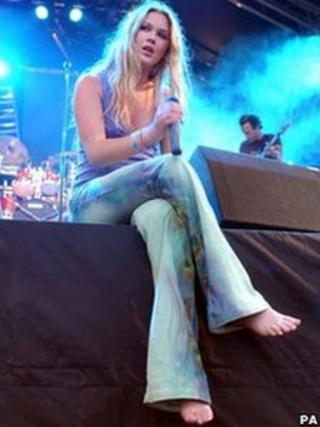 Two men have been found guilty of conspiring to murder Devon-raised soul singer Joss Stone in 2011. She was at her home, near Cullompton in the east of the county, the day the pair were arrested a few miles away.
Born Joscelyn Stoker in Dover, Kent, the 25-year-old internationally acclaimed singer was brought up on soul music by her mother, Wendy.
At the age of 13 she won the BBC's Junior Star For A Night talent contest, singing the Donna Summer hit On The Radio.
That led to an American record deal, resulting in her first album, The Soul Sessions, in 2003.
The record, a collection of covers recorded in four days, was released to critical acclaim, going gold in America.
She was 16 when she had her first hit - Fell In Love With A Boy - in 2004, and had just turned 17 when she won best British Female Solo Artist and British Urban Act at the Brit Awards.
Her vocals saw her hailed in the United States by some as "the white Aretha Franklin" and she has enjoyed success on both sides of the Atlantic.
Stone has also found herself in demand for advertising campaigns.
She has been the face of clothing chain Gap, and also starred in an advert for Cadbury's Flake.
In 2006, she was named the youngest woman on the Sunday Times Rich List, with an estimated fortune of £6m, which increased to an estimated £10m by 2012.
The singer has also turned her hand to acting, appearing first in movies in the fantasy film Eragon in 2006.
'Royal' connections
She also played the role of Anne of Cleves, Henry VIII's fourth wife, in the BBC drama The Tudors.
The singer was a guest at the wedding of the Duke and Duchess of Cambridge and it is these connections that were brought up during the trial of Kevin Liverpool, 35, and Junior Bradshaw, 32, both from Longsight in Manchester.
Prosecutors told the jury that notes found in the car used by the accused indicated the singer had been targeted because of her links with the Royal Family.
She sang at the Concert for Diana at Wembley Stadium in 2007 and at another charity event after being asked by Prince Harry.
Testifying at Exeter Crown Court during the trial, she told the jury: "I guess they just invited me because they thought it was nice to invite me."
Stone is also known for her connections to what is referred to as music royalty.
In 2011, she teamed up with Rolling Stones frontman Mick Jagger, Slumdog Millionaire composer AR Rahman, and Eurythmics star and record producer Dave Stewart in a new group called Super Heavy.
The same year saw the release of a greatest hits compilation, The Best of Joss Stone 2003-2009.
She was in the headlines in February 2012 when she offered her support to Sunday Times photographer Paul Conroy, who was injured in a bomb blast in Homs, Syria.
Mr Conroy, from Totnes, suffered serious leg injuries in an attack that killed war correspondent Marie Colvin.
The singer was said to be one of his first visitors in hospital in London, describing the photographer and film-maker - whom she first met aged 15 while making a documentary in Africa - as her "best mate", "brave" and "a survivor".
The Soul Sessions Volume II was released last July, and in February she took part in an attempt at the Abbey Road studios in London to recreate The Beatles' epic 10-hour recording session of their first album, Please Please Me.
She performed A Taste of Honey to mark the 50th anniversary of the Fab Four's recording.
Away from singing, Stone once said she would have become a social worker if her showbiz career had not taken off.
Speaking to BBC Devon in 2009, the singer said her charity work was important to her, including projects she has been involved with in Uganda.
And she remains as popular as ever among the residents of her rural Devon base.
BBC South West Home Affairs Correspondent Simon Hall said: "Some celebrities might be seen as remote, only staying in Devon because it's fashionable, a good place to have a home.
"Not Joss Stone. She's regarded as doing work in the local community, so she is well-liked here."
Devon and Cornwall Police said they acknowledged the murder plot case was "distressing and disturbing" for the singer, but added they were "sure she will continue to be a prominent and popular member of her local community".