Republican MEP Graham Watson criticised for knighthood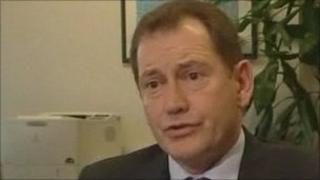 A South West MEP has been criticised for accepting a knighthood even though he is an anti-monarchist.
Graham Watson, the Liberal Democrat MEP for South West England and Gibraltar, was made a sir in the Queen's Birthday Honours last week.
But UKIP member and fellow MEP the Earl of Dartmouth said the knighthood underlined all that was "wrong with the political end of the honours system".
Sir Graham said he did not wish to offend the Queen.
Sir Graham, who is a supporter of the republican campaign group, Republic, told BBC Radio Devon: "I take it as an honour, not for myself but for all those Liberal Democrats who have worked for the kind of things I am working for.
"I think my republican sympathies are well known.
"I have long been of the opinion that, while Her Majesty should remain on the throne for as long as she sees fit, we should be preparing now for the election of a president to succeed her.
'Just baubles'
"I'm not the only person to hold these views and not the only person to be honoured in this way.
"There is an irony of course... I would certainly not wish, in any way, to offend Her Majesty, who must be aware of my republican sympathies."
Sir Graham said he thought his knighthood was in recognition of leadership of the Lib Dem trans-national group in the European Parliament and for his work introducing the European Arrest Warrant.
William, Earl of Dartmouth, said: "This award summarises all that is wrong with the political end of the honours system.
"It is just baubles going to establishment politicians, irrespective of what they stand for.
"It's between him and his conscience whether or not to accept this award."
Sir Graham was born in Scotland and speaks four European languages.
He became the first Liberal Democrat MEP ever elected and won the South West seat in 1999 when it was created.