Devon builder 'tried to frame wife for murder'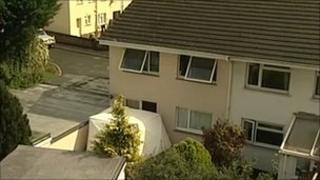 A Devon builder accused of murdering his wife and her friend faked a scene to make it appear his estranged spouse was the killer, a court has heard.
Neil Langmead is alleged to have killed his wife, Deborah, and Donna St John in Barnstaple in August 2010.
Prosecutors told Exeter Crown Court that Mr Langmead planted a knife in his wife's hand to make it look as though she was responsible for the deaths.
Mr Langmead, 40, from Barnstaple, denies arson and two counts of murder.
Mr Langmead is alleged to have repeatedly stabbed two of the women at his estranged wife's rented home in Fortmead Close.
The prosecution said he committed the murders just days after police handed him a harassment notice to stay away from 35-year-old Deborah Langmead.
Domineering
Prosecutor Michael Fitton QC said Mrs Langmead suffered two fatal injuries as well as others which "could easily have proved fatal".
He added that Ms St John, also 35, suffered 12 cuts and stab wounds, including one fatal wound.
The prosecution said three kitchen knives were used in attacks before Mr Langmead set fire to the house and then tried to hang himself from a loft hatch.
Firemen dealing with the fire discovered the women's bodies side by side in the small kitchen.
Mr Langmead was found upstairs unconscious below a loft hatch with a broken dressing gown ligature next to him, the court heard.
Mr Fitton said Mr Langmead had few injuries apart from marks around his throat and neck where he had tried to hang himself, and stab wounds to his abdomen which, the prosecutor claimed, Langmead deliberately inflicted.
Mr Langmead, of Convent Close, claimed that the women had a huge row and Mrs Langmead killed her friend before she was fatally injured while he tried to protect Ms St John and himself.
The jury was told earlier there was a long history of domineering behaviour by Mr Langmead towards his wife.
She left him for the sixth time in July 2010 and began divorce proceedings.
The trial continues.