Hemerdon tungsten pit restart 'will bring 230 jobs'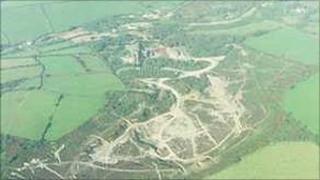 Mining will create 230 jobs after digging restarts at a Devon pit in 2013, the owner has said.
Wolf Minerals claims the mine at Hemerdon near Plymouth holds one of the world's largest sources of tungsten.
The Australian firm is investing more than £104m in the mine and said it could reap more than £600m over the next 10 years.
The company said global demand for tin and tungsten, a metal commonly used for light bulb filament, was rising fast.
A deposit of tungsten was discovered in 1867 at Hemerdon but commercial mining ended there in 1944 because of cheaper imports.
Wolf, which owns a 40-year lease on the mine, hopes to produce about 3,000 tonnes of tungsten and tin a year.
The mine will be 2,624 ft (800m) long, 1,476ft (450m) wide and 754ft (230m) deep.
Some local residents are opposed to the mine reopening, fearing noise from lorries.
Wolf said mining would be carried out under strict environmental controls and lorries would be kept away from the village.
Humphrey Hale, managing director, said: "The environment is important to all of us.
"We are controlled by Devon County Council and the Environment Agency."