Girl footballer's mixed team campaign approved by FA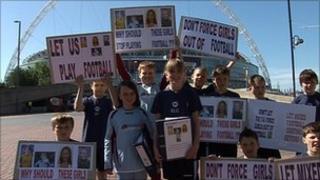 A Devon girl is celebrating after her campaign to raise the age limit for mixed-sex teams from 11 to 13 was accepted by the Football Association (FA).
Emily Lewis-Clarke, 11, from Newton Abbot, was told she had to quit her team, in which she was the only girl.
The FA said the change was supported by its board, council and the shareholders and would come into place next season.
After the announcement Emily said: "I'm so happy I can continue playing."
Emily and her team, Newton Abbot 66 Football Club, presented a 6,000-signature petition to the FA shareholders meeting in London.
The FA made its decision at its AGM held at Wembley.
In a statement it said: "The resolution was fully supported by the FA Board, FA Executive and FA Council."
Emily plays as a defender and said: "I've been playing football for five years and all the boys treat me the same.
"Sometimes the teams we play think 'oh she's a girl, she'll be easy to beat' but then they soon learn."
Emily's mother Michelle said: "She can stand up for herself and can play equally as well as the boys.
"She earns her place in the team on merit."
'Huge victory'
Lisa Cohen runs Tarka Football Club in North Devon and was in London with her 10-year-old daughter Shannon.
"We had an awful lot of support from the shareholders and the members and we're really happy with the results.
"We've achieved a huge victory today," she added.
Ms Cohen said she was elated her daughter could continue to play in mixed-sex teams.
Shannon Cohen said she was "really pleased" that the team could stay the same.
The limit for mixed-sex teams is 15 in Scotland, 12 in Wales and there is no limit in Northern Ireland.
On the continent girls often play in mixed-sex teams until the age of 18.