Hemerdon tungsten study 'positive', says Wolf Minerals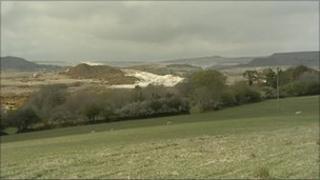 A mining company has moved a step closer to reopening a Devon tungsten mine which has been closed for more than 60 years.
Wolf Minerals said a feasibility study at Hemerdon mine, near Plymouth, had yielded a "positive result".
The site is believed to be one of the largest tungsten resources in the world and the company said nearly 500 mining and construction jobs would be created.
But some local residents are opposed to the mine reopening on their doorstep.
Wolf Minerals said work on improving access to the site could begin later this year, with the first tungsten being processed in late 2013.
The Australian company now needs to secure £104m investment to develop the mine and processing plant.
Mineral rights
Humphrey Hale, managing director of Wolf Minerals, said the mine's development would be a "boost to Devon's economy".
He said: "The Wolf team now has a project timeline which would see the commissioning of the processing plant by the end of 2013, placing Hemerdon as the best opportunity to secure tungsten supply from outside of China."
Wolf Minerals has a 40-year option and lease agreement at Hemerdon for the mineral rights and the rights to mine.
It hopes to produce about 3,000 tonnes of tungsten and tin a year.
Tungsten, meaning "heavy stone", is used in metalworking, construction, electrical equipment and light bulbs.
The booming economies of China and India have increased worldwide demand.
A deposit of tungsten was first discovered at Hemerdon in 1867 and mineral working was carried out between 1919 and 1920 and again between 1934 and 1944.