Sowton thatched cottages damaged in fire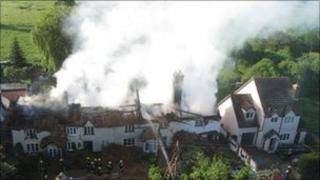 A row of thatched cottages in Exeter have been severely damaged in a fire.
Twenty fire crews from east Devon, Dorset and Somerset were called to the four cottages in Sowton Lane at 1845 BST on Saturday.
The fire broke out in a roof and 18 firefighters with breathing apparatus entered the properties two hours later. There are no reports of injuries.
Firefighters remain at the scene, though the incident has been scaled back. The cause is being investigated.