Devonport ship HMS Ocean tests Hellfire missiles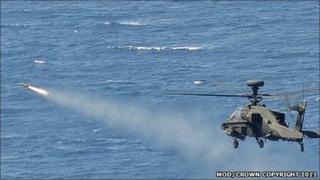 British Army Apache helicopters have fired Hellfire missiles for the first time while flying from a Royal Navy warship, Devonport-based HMS Ocean.
The ship is one of seven navy warships on exercise in the Mediterranean.
Nine of the radar-guided air to surface missiles hit targets successfully said the Ministry of Defence (MoD).
Cdr Jol Woodard, commanding officer of HMS Ocean's Air Group, said the missile firing was "very important step" for the UK's amphibious capability.
HMS Ocean set off on Operation Cougar II in April to test the capability of the newly-formed Response Force Task Group (RFTG).
The multi-national amphibious exercises in the Mediterranean and later in the Indian Ocean includes troops from 40 Commando Royal Marines.
The MoD said the aim of the RFTG was to be held at "very high readiness" to respond to "unexpected global events".