Warm April boosts hopes for Devon and Cornwall wineries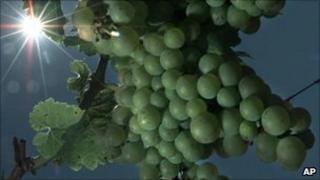 Winemakers in the South West are hoping the unusually warm and dry spring could result in a bumper season for vineyards.
There are about 400 vineyards in the UK - with about 100 in Devon and Cornwall.
Yearlstone Vineyard near Tiverton, Devon, which started in 1976, said the vines this year looked "extremely promising".
Vineyard owner Roger White said the vines were about two to three weeks ahead of normal.
Mr White said the vines "like a good chill", so the severe winter had not been a problem.
"What has been so spectacular is the April weather," he said.
"It's been hot, it's been dry - there's been a little sprinkling of rain and there's been no frost.
"You can't count your chickens before they're hatched because there's a long way to go, but all we can say is the potential is huge."
In Cornwall, the Camel Valley Vineyard has also welcomed the unusually warm and dry weather in April.
It said the lack of rain had meant pests such as slugs and snails had not been feasting on the delicate new vine shoots.
Camel Valley's winemaker Sam Lindo - named by the UK Vineyard Association as winemaker of the year - said this had resulted in healthy, strong vines.
Despite flowering time at the end of June and beginning of July being one of the "toughest" times, Mr Lindo said his confidence was growing.
Natural protection
"It's been a really good start and the vines are now far more likely to cope with whatever rain comes later," he said.
"The vines are strong and healthy and I'm very excited and more confident than normal."
Heavy rain during the first week in May in other parts of the country has hampered some vineyards, with early growth lost.
Yearlstone Vineyard sits about 200ft (61m) above sea level on a steep slope on a hillside above the lower valley of the river Exe which helps to give it a natural protection from the west, north and east.
The vineyard has expanded from its original 1.5 acres to 7.5 acres, with 6,000 vines.
Both Yearlstone and Camel Valley expect to begin harvesting their grapes at the end of September.
Vineyard owners in England have said the interest in locally produced wine is continuing to grow.
Last month, the Duke and Duchess of Cambridge chose an English wine for their wedding breakfast and it was announced recently that the Queen plans to grow her own wine in the grounds of Windsor Castle.
According to the English Wine website, the country now produces about two million bottles of wine a year.
Mr White said between 50 and 100 local outlets now sell wine produced in Devon.
"By my calculation, we're meeting nearly 5% of the wine demand in Devon," he said.
"So we're not a niche product anymore."