HMS Tireless returns to Plymouth base after 10 months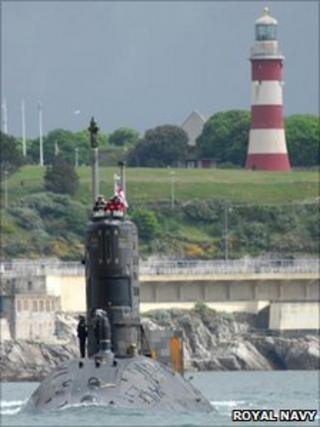 A Devon-based nuclear-powered submarine has returned to its base after a 10-month deployment.
HMS Tireless travelled more than 35,000 miles (56,300km) during the 307 days the vessel was away from the UK.
It was one of the longest deployments of any submarine in 10 years, the Royal Navy said.
About 200 families and friends cheered the Trafalgar-class vessel home to Devonport Naval Base after operations in the Indian Ocean and the Gulf.
In a first for a Royal Navy ship, it supported French naval vessels - including the aircraft carrier Charles de Gaulle - as French aircraft flew in missions over Afghanistan, the Royal Navy said.
Because the submarine was also on patrols to combat terrorism, drug smugglers and pirates, it was on silent running for about half its tour of duty so not to risk revealing itself, it added.
It meant that crew members were not able to contact their families for almost half of the deployment.
The crew will now have a long period of leave after a "successful, intense and hard-working deployment", the Royal Navy said.