Derriford Hospital jobs and beds to be axed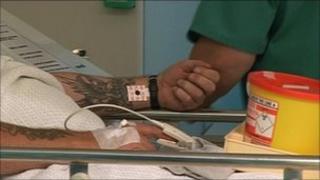 Managers at Derriford Hospital in Plymouth say they will be forced to cut posts and 130 beds this year to meet reductions in spending.
Plymouth Hospitals NHS Trust said its income would be cut by £12m in 2011/12 to £379m.
The Trust estimates that costs such as pay, drugs and litigation will rise by 19m, meaning it needs to make savings of £31m.
It said its priority was "safe and effective care to our patients".
The Trust, which employs more than 6,300 people, said it did not know yet how many posts would be cut.
Fifty-three posts have already been axed in finance, estates, planning, and human resources, leading to 11 redundancies.
It said that with more than 600 staff joining or leaving the Trust each year, a proportion of cuts could be managed through natural turnover.
Staff were also being asked to make savings such as reducing pay rises or sickness pay to minimise job losses.
The Trust's Annual Plan for 2011/12, said more patients were being treated in the community and as a result the hospital would be cutting 130 beds from more than 900.
Chief executive Paul Roberts said: "There is no doubt that it will be a tough year.
"For the first time in a decade the Trust will receive less money in 2011/12 than it has in the previous year.
"But whilst we will have to make very significant savings this year, our priority remains to provide safe and effective care to our patients."
The Trust said it would be offering affected staff a full package of measures to help them find other jobs.
The cuts in spending follow the coalition government's Spending Review in 2010 for the period between 2011-15.
The NHS is commited to making efficiency savings over the next four years of £20bn.
The Department of Health says the savings will be reinvested to meet rising levels of demand and "to support improvements in quality and outcomes".