Devon NHS dentist to pilot new 'quality' scheme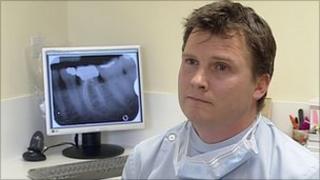 An NHS dentist from Devon is to take part in a pilot scheme which will see him paid for the quality of his work - rather than the quantity.
Andrew Curtis from Castle View surgery in Tiverton is one of 62 dentists in England chosen to participate in the scheme.
The aim is to allow NHS dentists to concentrate more on long-term improvements in people's oral health.
The pilot will begin in the summer and continue for 12 months.
Five years ago the government introduced a new dental contract, to encourage dentists to sign up with the NHS to do more preventative work.
Since then access has improved, with 61,000 more patients in Devon being seen by an NHS dentist.
However, a recent survey carried out by dental health insurance company Simply Health suggested that, while more people were able to access an NHS dentist, the quality of dental treatment had declined.
Some dentists have said the target-driven payment contract has left little time to teach patients about oral hygiene or enable them to focus on patients' long-term dental health.
Mr Curtis told BBC News: "From a dentist's point of view, the drawback is that we're on a treadmill and we're always target driven. We do provide a very high quality standard of care, but we are under pressure.
"With that pressure removed, we should be able to focus more on prevention and quality of treatment."
Patient Jennie Ford from Crediton, who had a complaint against a private dentist in Devon upheld, has set up a support group for people who believe they have received poor dental care.
She said she welcomed any dental contract that was not simply about targets.
Pilot variations
"The health service has been driven by targets and nobody's really been measuring the quality of what is done," she said.
"So anything within the health service that emphasises quality has got to be good."
Three slightly different models will be piloted across England in order to provide information and evidence on various aspects to help develop a new national contract.
Health Minister Lord Howe said the pilot would not only be better for patients, but also a better use of NHS resources.
"We all want good teeth and good oral hygiene," he said.
"That's why we want our dentists to get paid for the quality of treatment they provide rather than for the number of treatments, as is the case now."
Lord Howe said it was important to take the time to get the pilot "absolutely right" to provide a service that would meet he needs of the population.
If the pilot is deemed successful by the Department of Health, it could be rolled out throughout the country.