Devon village raises £35,000 from compost scheme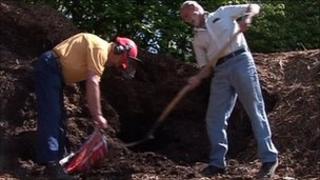 Volunteers at a Devon village composting scheme have raised £35,000 by recycling garden waste.
Bratton Fleming near Barnstaple gets £49 from North Devon Council for each tonne of garden waste it prevents going to landfill.
Beneficiaries in the village include the pre-school which moved into a new building in February.
The scheme, thought to be the biggest of its type in Devon, was launched by the parish council in 1996.
It was in response to pressure by the government on local authorities for 75% of household waste to be recycled or used for energy recovery by 2020.
Parish council chairman Terry Shapland, who helped start the scheme, said: "People bring their garden waste which may include anything such as lawn mowings and hedging waste to the site.
"It is put through a chipper or put straight onto the pile.
"Once a month we get a JCB to come in and turn it over."
The villagers also benefit by getting free bags of compost made from their garden waste.
Five volunteers work about two hours a week on the project which has recycled hundreds of tonnes of garden waste.
Mr Shapland said: "It's no picnic.
"My wife says I'm mad to do it, but you get a fair bit of satisfaction doing it for so many different organisations and seeing the benefit."