Plymouth parents call for cremation law change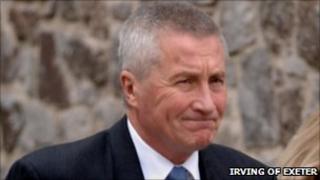 A Devon couple whose stillborn baby was cremated without their knowledge are calling for the law regarding cremation to be changed.
Sandra and Sai Lau from Plymouth lost their son in June 2010 when she was 26 weeks pregnant.
Their funeral director was later found guilty of forging a signature authorising the baby's cremation.
Mr and Mrs Lau want two signatures to be required on paperwork and for them to be witnessed.
They discovered their son had died when Mrs Lau went for a routine check-up at Plymouth's Derriford Hospital.
Mrs Lau gave birth to the child, whom they named Sonny, two days later.
'Last wish'
Mrs Lau said: "All the dreams I had for Sonny were gone.
"There were just no words to explain it... whether he was 26 weeks or 26-years-old he was still my boy."
The couple chose a funeral company and discussed funeral arrangements, including cremation, with the funeral director, David Durden.
Mr Lau said: "He said he was going to make the necessary arrangements and then let us know when he'd collected Sonny from Derriford so that we could do all the final arrangements... There was never any paperwork."
The couple were planning to dress their son before his cremation and place certain items inside a specially-chosen casket but nine days later when they phoned the funeral director to check on progress he told them their son had been cremated the day before.
Mrs Lau said: "I was crying on the phone and he just said 'I'm so sorry, I know how you feel,' but he couldn't possibly know how I feel.
"That was my last wish, that was the only thing that I could give to my son, and he made that impossible because he was already cremated."
She said Durden claimed she had signed a form authorising the cremation but had been too distressed to remember it.
In April, Durden, 61, of Dunraven Drive in Plymouth, was found guilty at Plymouth Magistrates' Court of submitting papers to Bodmin crematorium which did not have the signature of the child's mother or father.
He was fined £400, ordered to pay a £15 victim surcharge and £350 court costs. He was also sacked from his job.
'Deeply shocking'
Mr and Mrs Lau said their son's ashes are still being held at Plymouth's Western Mill Cemetery and they are planning to finally lay him to rest later this month.
They now plan to write to the Ministry of Justice to ask for the regulations surrounding cremation, which is legislated by the Cremation Act 1902, to be tightened.
Alison Seabeck, Labour MP for Plymouth Moorview, said: "I find it deeply shocking that a cremation can go ahead without the family being present or even knowing.
"We have to prevent this happening to another family."
Dominic Maguire, from the National Association of Funeral Directors, said: "As a result of the issues that have arisen from the Dr [Harold] Shipman case, a widespread government review of burial and cremation regulations is presently ongoing.
"It is hoped that once these regulations are finalised it will mitigate against any future abuses of the system."
The BBC could not contact Durden for comment.