Memorial to Rorke's Drift soldier Pte William Wilcox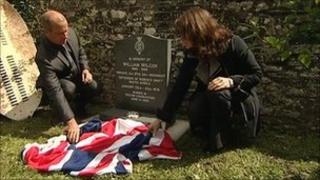 A new memorial to one of the soldiers who took part in the battle of Rorke's Drift has been dedicated at a ceremony in Devon.
The memorial stone marks the grave of Private William Wilcox at St Edmund's Church, Dolton, near Great Torrington.
The stone was unveiled by Colin Fielding, great grandson of Private John Williams, who served alongside Pte Wilcox.
The battle took place in South Africa during the Anglo-Zulu war of 1879.
About 140 British soldiers, using rifles and bayonets, defended Rorke's Drift against thousands of Zulus, armed mainly with spears.
The Zulus eventually retreated after losing 450 men. Seventeen British soldiers died and 10 were wounded.