Tories win the Torbay mayoral vote in Devon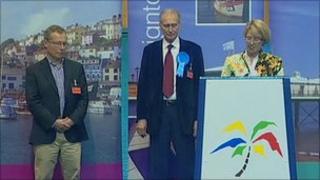 A Conservative has been elected mayor of the Torbay unitary authority.
Gordon Oliver beat the incumbent, independent candidate and the resort's first elected mayor, Nick Bye.
The Conservatives have taken control of some district councils, including Mid Devon and Teignbridge.
The Labour Party has made some gains in councils in Devon's two cities. In Plymouth, although the Conservative Party remains in control, Labour saw an increase in seats from 20 to 25.
The party gained four seats on Exeter City Council, bringing its total up to 19, but the authority remains under no overall control.
Conservative Gordon Oliver won the Torbay mayoral poll from incumbent and independent candidate Nick Bye by about 12,716 votes to 9,631.
Torridge mayor ousted
The Conservatives took control of Mid Devon District Council after winning 24 seats on the 42-seat authority.
Liberal Democrats and independents suffered losses. The Lib Dems won six seats, losing two. Independents lost four, reducing their number to 10.
In Teignbridge, the Conservatives also took 26 seats on the 46-seat authority, an extra eight seats on 2007's results.
The Liberal Democrats - previously the largest party, although with no overall control - saw its 20 seats from 2007 drop to 13.
The Conservatives also took control of West Devon, taking 19 seats out of 31.
As well as their council wins, the Conservatives retained some authorities they already had, including East Devon District Council.
Of 59 seats contested, the Conservatives won 43, up from 42 in 2007.
However, the previous leader of the authority, Conservative Sara Randall Johnson, lost her seat.
The Liberal Democrats followed with 10 seats and independents six.
In the South Hams, the Tories increased their seats by three to 30 out of 40 seats.
No political party gained overall control of Torridge District Council.
The Conservatives remain the largest party with 18 of 36 seats, an increase of one on 2007's election results.
UKIP councillor
However, Labour has gained its first seat on the council in eight years when David Brenton won Bideford South, ousting Bideford's mayor, Conservative Philip Pester.
The Conservative took 22 seats out of 36, a drop of one from 2007. The Liberal Democrats lost one seat as well, seeing their total drop to nine.
UKIP saw it gain its first Torbay councillor.
The Conservatives lost control of North Devon District Council, ending up with 18 seats out of the 43-seat authority, down from 22 in 2007.
The Liberal Democrats remain the second largest group on the council, winning 14 seats. However, this was a drop from 17 in 2007.