Walkers denied access to part of Meldon Reservoir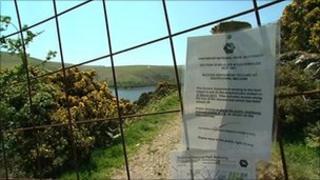 Walkers have expressed their disappointment that one of Dartmoor's most popular circular walks has been partly closed to the public.
About 15,000 people walked the route around Meldon Reservoir, near Okehampton, last year.
But the western side of the reservoir was closed off after an access agreement between Dartmoor National Park Authority and the landowner ended.
Both parties said negotiations were ongoing.
Meldon Reservoir, a local beauty spot, was opened to the public in 1990.
Rob Steemson, Dartmoor's head ranger, said: "We are obviously a little bit concerned about the walk because it's quite popular.
"We're upset that we can't secure access at this time but we're in ongoing negotiations with the landowner."
National Park
Mr Steemson said the land was not common land and there was no public right of way.
Andrew Hobbs, a walker, said: "I think it's very disappointing, there's nothing worse on a walk than having to turn around and come back the way you came."
Phil, another walker, had travelled from Nottingham to do the walk and said: "We're really disappointed because we've come quite a long way to do the walk.
"It's a national park so it should be open land."
The closed-off section of land is owned by farmer Philip Heard.
It is understood he had been paid about £700 a month to allow walkers to walk across his land but that sum was reduced because of changes in access payment regulations.
Mr Heard told the BBC the existing access agreement ended at the end of March and a new one had not been agreed.
But he confirmed negotiations were ongoing.