Irish consortium interested in buying Plymouth Argyle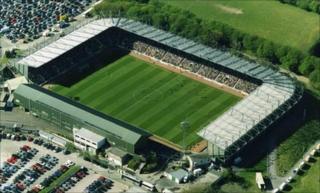 A group of Irish investors who are interested in buying Plymouth Argyle are to meet with representatives of Plymouth City Council.
The unnamed consortium wants to discuss how much development would be allowed around the club's Home Park ground before making a formal offer.
The League One club has been in administration since early March.
The consortium has already met the club's administrator Brendan Guilfoyle.
So far Mr Guilfoyle has only received one formal offer for the club, from Devon-based businessman James Brent.
Another potential bidder, Paul Buttivant, has yet to file a bid despite talks with the administrator.
Creditors' agreement
The club's creditors will find out in the next few days how much money they will be offered.
It is expected to be one penny for every pound owed.
The details of a Creditors' Voluntary Agreement will be issued later this week ahead of a creditors' meeting in early May.
Whoever buys the club, Mr Guilfoyle said he did not believe a deal would be concluded until early June.
Argyle were docked 10 points when the club went into administration and remain bottom of League One.