Devonport ship HMS Albion prepared for Mediterrenean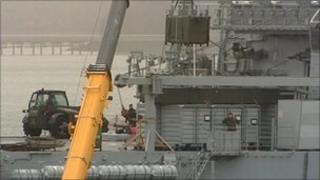 Preparations are under way at Devonport naval base for an exercise in the Mediterranean.
Assault ship HMS Albion is being loaded for Operation Cougar, the first phase of which will run until June.
The Ministry of Defence (MoD) said the exercise had been planned for two years and it was not sending HMS Albion to Libya.
However, it added other Operation Cougar ships could provide humanitarian relief to the North African country.
The MoD confirmed that HMS Albion will sail from Devonport on Thursday, bound for Gibraltar.
Plymouth-based frigate HMS Sutherland is also taking part in the exercise which will take in the Mediterranean before moving east through the Suez canal for further exercises in the Indian Ocean.
The MoD said the ships and troops from Taunton-based 40 Commando would be there "to develop and demonstrate contingent capability for UK defence - in effect, the ability to respond to short-notice tasking across a diverse range of defence activities such as disaster relief, humanitarian aid, or amphibious operations".
Devonport-based submarine HMS Triumph has just returned to the base after operations against pro-Gaddafi forces.
Cdr Rob Dunn said: "I am proud of my ship's company. They went about their duty and carried out all I asked of them in the most professional way.
"They are naturally satisfied that they carried out an operational tasking using our Tomahawk land attack missiles weapon system, which does not happen very often, but for which they are highly trained and prepared for at any time."