Dartington provides refuge for Dartmoor hill ponies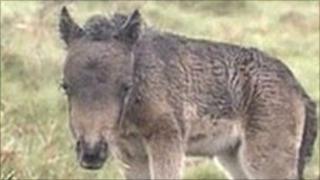 A group of Dartmoor hill ponies has been given a temporary refuge on a Devon country estate.
Eleven unwanted ponies have been rehomed on the Dartington Estate near Totnes by the Dartmoor Hill Pony Association (DHPA).
The organisation said the recession meant demand for the ponies had dropped and farmers were unable to sell them.
Conservationists fear the ponies could become extinct if farmers stop breeding them.
The number of Dartmoor hill ponies has dropped from about 30,000 at the beginning of the century to just 1,500 in 2011.
The DHPA said Dartmoor hill ponies relied on farmers and if they were no longer profitable they could "disappear from the moor for good".
Free grazing
The organisation has rehoused over 300 unwanted colt foals around the UK, including the animals at Dartington.
Charlotte Faulkner, from the DHPA, said: "These really are the lucky few - we need more willing sponsors to come forward or there is a very real danger ponies will disappear from the moors and with them an extensive and unique gene pool."
The organisation is hoping people will sponsor individual colt foals to be castrated - an operation usually costing about £200 - because once they are gelded they become easier to sell or find homes for.
The animals at Dartington Hall have been provided with free grazing until a permanent home can be found for them.
John Channon, woodlands and conservation manager at The Dartington Hall Trust, said: "Not only is this a constructive way to protect a part of our region's unique heritage, it's also a great land management strategy.
"Providing free grazing for the ponies will help control vigorous species such as bramble and bracken and create the right conditions for insects, which in turn provide food for other wildlife."