Pupil tells of bullying by abuse teacher Neil Dyer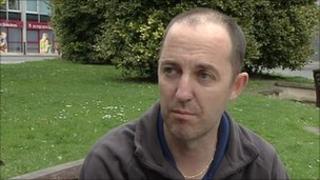 Michael Hodgins was a former pupil of Plymouth teacher Neil Dyer, who was convicted on Monday of 25 counts of sexual assault against boys and girls in his care.
Although not a victim of sexual abuse himself, Mr Hodgins said he was bullied by Dyer "from day one".
He told BBC Spotlight: "He was a complete deviant. As a 10-year-old child you were petrified sometimes just by seeing him... he would just lunge at you with ferocious words."
The 44-year-old taxi driver from Eggbuckland in Plymouth was a pupil at the city's Widey Court Primary School from 1971-1977.
At the time Dyer, who was known then as Geoffrey Burley, was a teacher at the school.
He later became head teacher.
Mr Hodgins, who was moved to another class as a result of the bullying, said: "He had his little blue-eyed boys and there were the ones who were victims who maybe he'd beat regularly with a ruler."
Mr Hodgins said when he was a pupil he had no suspicion that sexual abuse was going on.
But he said that even when Dyer was just a teacher he had "so much power and control that no-one questioned him.
"Looking back a lot of the teachers were probably as petrified of him as the pupils were.
"You could see he got pleasure from controlling people."
Mr Hodgins, who attended Dyer's trial at Plymouth Crown Court, said he believed there could be other victims of sexual abuse.
"I don't believe everybody who was affected has come forward," he said.